Problems with your induction application could be due to the induction coil.
The induction coil is the energy transmitter for the induction power supply – radio frequency (RF) generated in the coil creates a magnetic field that then gets induced into the work piece, heating it up.
An issue with the induction coil could compromise your application and your entire manufacturing process. Do any of these problems sound familiar?
Underheated parts
Overheated parts
Inconsistent heating
Shorting
Damage to parts
Coil overheating
Induction heating power supply tuning issues
Click to request your copy of Resolving Coil-Related Induction Heating Issues:
Let's take a deeper dive into one of the problems.
Overheating
Are your parts overheating or worse, melting?  While induction is great because you can control the process, sometimes getting the process down exactly can be tricky, particularly if you're using your induction heater and induction coil for multiple applications.  Induction coils are not one-size-fits-all: An induction coil with five turns, for instance, might be great at heating large-diameter parts but the resulting RF field could turn a smaller diameter piece into a dripping mess.
You don't necessarily need to buy a different induction heater for every application, though – as long as your induction heater is properly sized and tuned, you may just have to switch coils.
If you've been using the same induction coil and induction heater for your application for a while, but have suddenly started having overheating issues, you need to look at a couple other factors:
Has the distance of the workpiece from the coil changed? Possibly the fixture holding the workpiece in place has shifted or has been damaged.
Does the induction heater need re-tuning? Are there power fluctuations on the panel, or any kind of machine faults noted?
Check out our complete troubleshooting guide for more pointers.
At Inductronix, we know the right induction coil is vital to your induction heating application.
We can build coils to your specifications or our Applications Engineers can work with you to determine the best coil design for your application.
Below are designs for a few of our basic induction coil designs that can be ordered to your size and fittings.
2 Position Round Load Coil (Standard)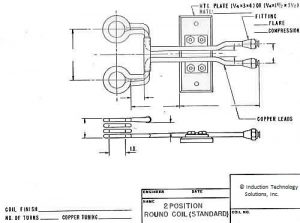 Demo Content
RV-3 Rectangular Vertical Coil with Offset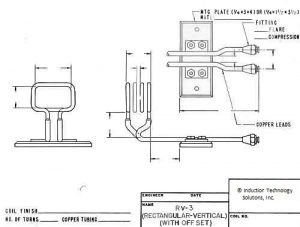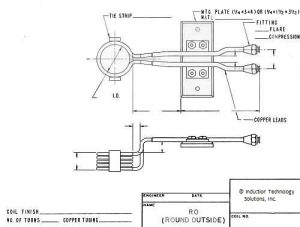 Two Layer Coil Series Wound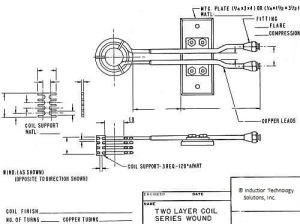 About Us
Inductronix has a combined 100+ years in the induction field.
We can meet your induction heating coil design needs in a prototype and a production environment with U.S. made coils at a reasonable price, backed with a full year warranty against manufacturing defects.
In many cases, we can have an induction coil out to you in about one week.
Call us today at +1 (800) 956-3941  or Email us  with details of your application and material and we will get back to you with a quick quote. Also check out our complete induction heating solutions at http://www.inductronix.com.  We look forward to hearing from you!